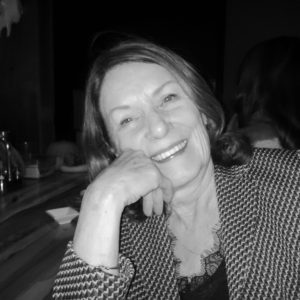 Mary Kay O'Neil, PhD, is a supervising and training psychoanalyst and registered psychologist in private practice in Toronto, Canada. Trained at the Toronto Institute of Psychoanalysis, she received her PhD from the University of Toronto and was an assistant professor in the Department of Psychiatry. Currently, she is president of the North American Psychoanalytic Confederation (NAPsaC), a member of the board of the Toronto Psychoanalytic Society, and on the faculty of the Toronto Institute. Formerly, she served as director of the Canadian Institute of Psychoanalysis (Quebec English), Montreal, and was a North American representative on the board of the International Psychoanalytical Association (IPA).
Her recent book Mothering Alone: A Plea for Opportunity is the result of her study of a pioneering facilitating programme enabling low-income mothers with little to no outside support to attend college or university. In this post, Mary Kay considers why it is so important that mothers who raise children alone be better supported in society.
After spending many, many hours talking with women mothering alone without resources, I knew that a book had to be written. I had been impressed by the mothers' ready willingness to participate in the study of the Program in which they were involved and deeply moved by their open and honest stories, their courage in the face of hardship. They wanted to be heard and they deserved to be heard. (It should be noted that, although these mothers had little material or emotional support, they were also a fortunate group in that they qualified for post secondary education and were in a program which provided facilitating basics such as housing for them and their children.)
I was further motivated by the fact that I had been raised by a mother who, due to her husband's death in World War II, was left on her own to raise three children. In addition, our Western societies face a distressing increase in the incidence of sole support families, primarily led by mothers with limited resources. As noted by UNICEF (2006) "The lives of women are inextricably linked to the well-being of children. If they are not educated, if they are not healthy, if they are not empowered, the children are the ones who suffer." Women need (besides the basics of housing, food, clothing, relaxation etc.) opportunity for education and/or remunerative work if they are to better their own and their children's lives.
I maintain that development of the capacity to be an effective mother depends on a combination of biopsychosocial contributors. To address these contributors, this book was divided into three parts:
Part I focuses on the history and shifts in societal attitudes toward single motherhood, also on maternal tasks and what is needed to accomplish them, as well as on the influence of relational and other life experiences on the women's decision to give birth and mother alone.
Part II explores (within a psychoanalytic context) three characteristics basic to maternal growth and effective mothering – Resilience, Autonomy, Caring.
Part III considers what has been learned from these mothers, in the light of current psychological understanding, and outlines society's role in providing the opportunity for women mothering alone to become successful mothers.
Rosemary Balsam, a well-known psychoanalyst, wrote an insightful Foreword, providing a fitting context for the book. The Afterword summarizes what was learned through the generous sincerity of the mothers interviewed. As a psychologist and psychoanalyst, I am aware that much of what is known about women's development has been learned from those who come to us for help. I am convinced that much more can be learned about women's psychological and physical well-being, about their innate strength and capacity for development, from mothers who have little or no opportunity for potentially useful psychotherapy. There is no doubt that society must also provide facilitating opportunity.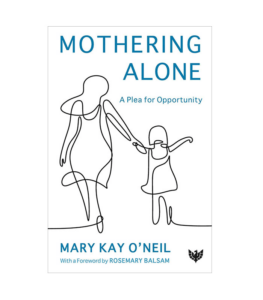 My book, therefore, is about the status, the role, the strengths, the development, and the challenges for women with few resources who mother alone in the Western world, what they need to succeed, what they contribute to the understanding of women's and children's biopsychosocial development and the necessity for further societal changes and increased opportunity.
Mary Kay O'Neil
Mothering Alone: A Plea for Opportunity is available from our website now.