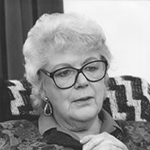 Nina Coltart was described by Christopher Bollas as '… the single best expression of the British psychoanalyst of independent persuasion we are ever likely to have.'
Here Phoenix publisher, Kate Pearce, talks about the importance of her work and why her classic works need to continue to be discovered, read, and considered.
You can view all three of her books, reissued by Phoenix, here. Read on to find out more about Nina Coltart – and for the incredible special offers available!
It is over 20 years since Nina Coltart published her three seminal works. Yet the writing and the wisdom is as fresh today as it was then. There are some reminders of a time gone by, of course. Her enjoyable account of a frequent interchange on not allowing smoking in the consulting room shows how much times can change. But human nature does not and the advice remains sage. And perhaps replace "cigarette" with "device" and you're back in the modern world and aware of our continuing reliance on certain crutches.
Nina Coltart's voice sounds out clearly throughout all three of her books. You gain a vivid impression of the woman behind the text. Formidable, forthright, and a little bit daunting, yet at the same time kind, empathetic, and warm-hearted. With a keen sense of fun that shows through in her writing and a practical streak that makes her advice so useful. From reading these, I felt as though I knew her, and wish that were the case, but she passed away in 1997, a year after the publication of her avowed "last book" The Baby and the Bathwater.
In a world where many are afraid to say what they think, Nina Coltart had no such concerns. She was secure enough to recount her failures as much as her successes. She admitted to not always following procedure and, on occasion, getting things wrong. Her writings are all the finer for these admissions.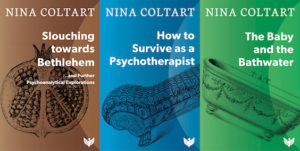 Her first work, Slouching towards Bethlehem … … and Further Psychoanalytical Explorations was published in 1992. Full of eloquent, meaningful, and provocative clinical stories, this volume introduced her characteristic style of journeying through important issues in analytic practice. She explores the use of intuition, the 'special' attention required by an analyst, the value of silence, and of humour, and the importance of psychosomatic processes. All positively groundbreaking at the time and still innovative today. Our reissue includes a foreword from Dr A. H. Brafman, a well-known psychoanalyst and personal friend of Dr Coltart's.
She followed her debut with, possibly her best-known work, How to Survive as a Psychotherapist. As her first chapter makes clear, it was 'survival-with-enjoyment' she was urging. Acknowledging that psychotherapy could be a hard profession but also an enjoyable one. Her guide is a joy to read, and intertwines the prosaic with the esoteric: how to decorate your consulting room alongside discussions of Buddhism and the delicate balance one treads between life and work. Our reissue includes a foreword from Dr David E. Scharff, editor-in-chief of Psychoanalysis and Psychotherapy in China journal, and an updated Further Reading list.
It was said that with her final book, The Baby and the Bathwater, she saved her "best for last". Containing another batch of absorbing and intriguing stories, she covers topics as diverse as money, silence, politics, spirituality, and philosophy. By this point, she had retired, which possibly gave her even more licence. It was this book which led to Christopher Bollas' fulsome, and much-deserved, praise.
At Phoenix, we believe passionately in bringing out the best new works in our field but we also want to re-energise the classics and promote them far and wide too. As such, we are proud to bring Nina Coltart's legacy to a new generation and hope it brings forth new admirers for a psychoanalytic pioneer.
*Special offers* We are offering the following fantastic deals for fans of Nina Coltart's work: buy all three print books together for £50! That's a saving of £17.97! Or if you'd rather have the e-books, it's £32.43 – a saving of £19.04. Or, if you'd like them all in both formats, take advantage of our special 'bundle' deals and buy all six for £56.00 – a saving of £17.97!