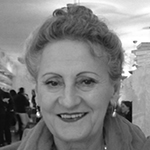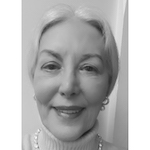 Halina Brunning is a chartered clinical psychologist, freelance organisational consultant, and accredited executive coach. Olya Khaleelee is a corporate psychologist, psychoanalytic psychotherapist, and organisational consultant, as well as former chairwoman of the London Centre for Psychotherapy (now part of British Psychotherapy Foundation) and former director of OPUS: Organisation for Promoting the Understanding of Society.
Here, they discuss their latest book, The Covid Trail: Psychodynamic Explorations, an edited collection which seeks to understand the post-pandemic world from an international perspective.
This book is an exploration of the new unknown terrain that Covid-19 has presented to us. This is a dangerous, dark terrain, full of foreboding, that we are all exploring in our own ways, using such resources as lay at our disposal. To explore it is to follow its trail and to note each of its sharp yet subtle twists.
For us, a pair of experienced psychologists and writers, to edit this book together, we needed to find a way of thinking about and understanding the world, supported by a common language. That language is psychoanalysis and system psychodynamic thinking.
Motivated by a desire to express what is hidden, dangerous and difficult to express, this book takes us on a trail that starts with disquiet, disorientation, and loss. Through attempts to make sense of a narrative that we would rather not recognise, the book slowly shakes off the sense of disorientation in the initial fragmented narrative, and looks for a guide to lead us through the pandemic. This guidance cannot offer a guarantee of survival, but it acts as a psychic container for the necessary understanding that we all seek.
The first disorienting part of this book thus ends with a containing coherent guide to the trail. There is not so much light at the end of this trail, for we cannot guarantee the future, but there is a clear path to follow, despite its meandering and dangerous nature.
The second part of the book is devoted to pairing despair with resilience through balancing power with vulnerability. We take an international perspective whilst tracing how this pattern of resilience paired with vulnerability plays out in all four chapters.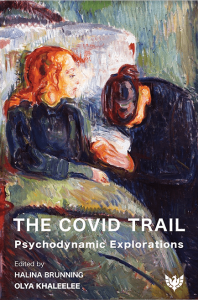 In the third part of the book we delve into the realm of psychoanalysis, to seek solace, or at least a deeper understanding of the phenomenon of Covid and the pandemic as we examine the role that we as human beings have played in sowing our own environmental destruction in this unfolding catastrophe.
The fourth and final part of the book offers a glimpse into the post-Covidian world which forces us to fully recognise the longer and deeper impact of Covid upon our bodies, relationships, constructs, and civilisation.
To create this book, we were fortunate to have been able to bring together a team of amazing colleagues from around the globe who speak our language. Of course, this language is not necessarily English per se, but that of psychoanalysis.
---
Halina Brunning and Olya Khaleelee
The Covid Trail: Psychodynamic Explorations is available from our website now.