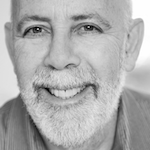 Jan Resnick has practised as a psychoanalytic psychotherapist for over 45 years. He trained in London where he was supervised by R. D. Laing, John Heaton, and Christopher Bollas. He moved to Australia in 1990 where he founded The Churchill Clinic that ran accredited professional trainings in Analytic Psychotherapy & Counselling. The founding president of the Psychotherapists & Counsellors Association of Western Australia, Jan received an Outstanding Achievement award for his contribution to the profession. He was an Editorial Advisory Board member of the national journal Psychotherapy in Australia, where he penned a regular column for over twenty years. Jan Resnick has a PhD in Psychology (psychoanalysis) based on a psychotherapeutic understanding and treatment of psychosomatic disorders. Over his career, he founded and presided over four separate mental health charities.
Jan's latest book Meaning-Fullness: Developmental Psychotherapy and the Pursuit of Mental Health explores why current mental health practices are falling short in the ever-growing need for effective responses to the epidemic of mental unwellness.
When I came to Australia over 32 years ago from England, the cultural attitude to mental health could be encapsulated in the phrase 'don't air dirty laundry in public'. Fast forward to the present and it seems that mental health issues are something everyone wants – no, needs – to talk about. This was the case before the Covid pandemic but has become much worse since. We are now in an epidemic of mental unwellness of global proportions.
At the same time, there has never been greater availability of mental health professional practices and services; a questionable contradiction.
Mainstream practices of psychology and psychiatry are falling short in making a meaningful enough difference. Prior to consulting me, most patients (or clients if you prefer) have been to multiple mental health professionals and either not been helped, or not helped enough. Why not? This is not a simple question. However, if I provide a partial answer, then treating mental unwellness as a medical pathology is a radical mistake, in my opinion.
Of course, some mental illness is a medical pathology, no doubt. Some conditions benefit from psychotropic medication and some patients require hospital care. Sometimes, the mainstream approaches are life-saving. If I were to depict on a pie chart the number of times I have needed to refer patients for medication, psychiatric treatment or hospital care, it would be a very small fraction, a tiny slice of the pie. The 'main course' of what is needed to make a meaningful and lasting difference is therapy.
The term 'therapy' or 'psychotherapy' has also become problematic because all manner of people and practices call themselves by these descriptors. CBT, for example, is not what I mean by 'therapy'. The field is further complicated because there are hundreds of different types of psychotherapies that can fairly lay claim to the term. A further layer of complexity occurs when many patients come for an issue in the present – say a relationship breakdown, work stress, social anxiety, low mood or major depression – and then we discover childhood trauma in the family of origin history. Probably all effective therapies need to be trauma-informed.
Most therapists think their approach to therapy is the best. That is why we, professionals, chose to study, train, undergo, be supervised by, and ultimately practise it. Maybe teach it, too, even write books about it! Commonly, therapists promote their approach to therapy accordingly and most therapists seem to have successes that support their claims. Such is our cultural tendency, and I suggest is part of the problem.
In the spirit of competitiveness there are opposing theories, contrasting explanations, contradictory narratives, even ethical ambiguities and a variety of practical approaches. The term 'evidence' is liberally employed to support such positions. There is always research, studies, and statistics for further affirmation. To me, this is a reflection of a professional marketplace that produces competitiveness, sometimes professional envy and worst of all, Schadenfreude. Yet, despite all this, mental suffering is more pervasive than ever, in my experience.
The question 'what is the best therapy?' misses the more important point: 'what helps this patient at this time?'. Possibly, the one principle that elicits most agreement is the importance of connection in the professional relationship.
I wrote Meaning-Fullness with the above in mind as a starting point. In addition to the centrality of the professional relationship, I emphasise the urgent need to consider what Viktor Frankl called 'the existential vacuum' and slightly later, Winnicott raised the issue of what makes life worth living as a focal point for psychoanalytic practice. Winnicott said you can cure your patient of their psychoneuroses but never consider what makes their life worth living.
The current pandemic of mental unwellness has brought these issues to the foreground. Frequently, and more than ever, patients are voicing their despair through expressions like: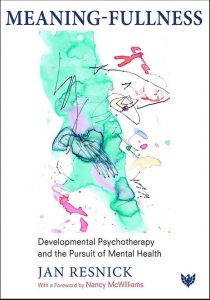 I feel empty inside, I can see no purpose in living, I have no direction, I don't feel care for anyone or anything, nothing means much to me.
Winnicott emphasises the place of play for children in the origins of creativity and the capacity to invest value and meaning in things, activities, people, and relationships. I develop these ideas further in the book. I set out to connect play, finding purpose and meaning, development, the psychotherapy relationship and clinical process as an effective response to various forms of mental unwellness and emotional suffering.
Whatever therapy is being offered, we have to address the underlying existential questions in a way that cultivates the necessary emotional development to find or create meaning in our patients' lives, selves and relationships, while working towards relief of suffering in the process. Otherwise, the current position of a revolving door of people experiencing a recurrence of mental disorders is bound to grow, just as it already has, as health systems buckle under the deepening crisis of demand. Meaning-Fullness presents an alternative understanding of mental unwellness and a vision of working therapeutically beyond short-term, quick-fixes through development towards a life that can feel worth living.
---
Jan Resnick
Meaning-Fullness: Developmental Psychotherapy and the Pursuit of Mental Health is available from our website now.